Plus Size Boudoir Photography at Rebel & Romance Boudoir Photography
First things first, let's talk about the term "plus size."
Personally, I think it's a ridiculous phrase. Who gave the fashion industry permission to decide what is "regular size" and what is "plus size?" Remember, these are the people who put giant fake birds on the ratted hair of models because it's "eclectic" and send creations down the runway that absolutely unwearable every single season. It gets even worse when you realise how strictly they have defined it – a plus size models in Europe start at just size 12!
I use the term "plus size boudoir" on this page, and throughout the rest of my website for one reason, and one reason only: it's the term all you lovely curvy women are using when you search online.
If I used the much preferable phrase, "curvy boudoir photography" or maybe even "voluptuous boudoir photography, " or maybe if I just titled everything with "BOMBSHELLS – This one is for you!" I wouldn't reach even half of you. So I SINCERELY hope the term "plus size boudoir" doesn't offend you, it's certainly not intended to. I'd just rather WORK with you than refuse to use the most popular defining phrase for today's beautiful women.
Plus Size Boudoir Sessions are amazing. Curvy girls often become my most happy and loyal clients, and they are frequently the ones who really, really, really love their time and experience at Rebel & Romance. Check out the information below for more details and to become one of them!

A few common questions about Plus Size Boudoir Sessions…
Is a Plus Size Boudoir Photography Session different than other Boudoir Photography Sessions?
Yes and no. The layout for a Plus Size Boudoir Session is identical to any other session – planning and prepping before the session, a few conversations beforehand to make sure we're on the same page and that you don't feel like you'll be photographed by a complete stranger, a professional makeup artist and hairstyling on the day of your session, several wardrobe options and sets, plenty of posing and coaching, editing and retouching on your best images, and a beautiful viewing a few weeks later.
There are a few things I'll probably do differently if you indicate that you are plus size/curvy/have child bearing hips;)
First off, I'll tell you not to worry. Being curvy means that you've had a LOT of bad photographs taken of yourself. About half the curvy women I work with are terrified of the camera, and convinced that they are as big as those horrible photos have made them look. You're not. I just need you to trust me long enough for me to prove it. I promise,  I know what I'm doing with your curves and your boobs and your hips and your stomach. If you've never had a professional photo shoot before, you'll be amazed what a teensy bit of proper posing and lighting will do for your shape and self-confidence.
Second, if necessary we'll discuss any areas of your body you're particularly unhappy with. I really don't like to dwell on this, but if you'd rather vomit than see your stomach in a photograph, I'd like to know. There are particular poses we can utilize to hide any trouble areas, and the right wardrobe will do the rest.
Thirdly, we'll talk extensively about wardrobe – what works, what doesn't work, what items
to consider and where you can find them.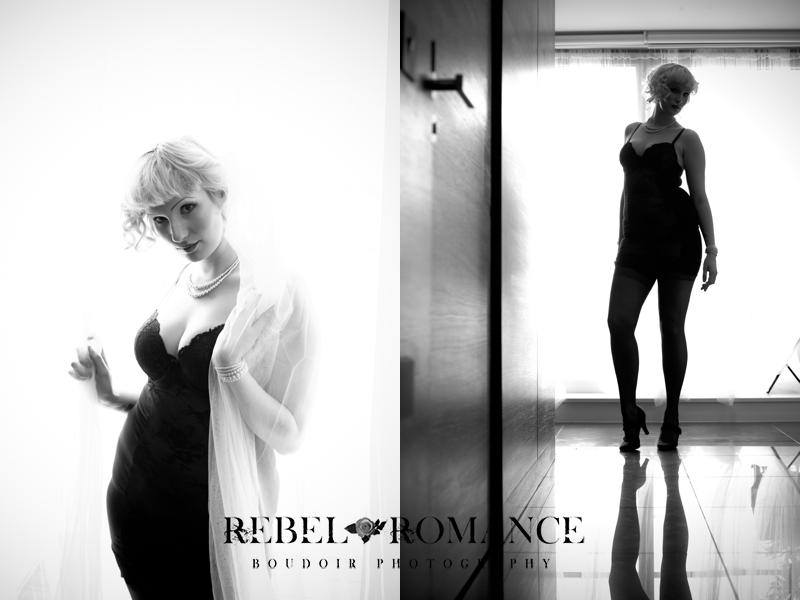 When should I book my Plus Size Boudoir Photography Session?
I recommend you contact me as soon as you know you'd definitely like to have a Plus Size Boudoir Session with me. The sooner I can put you on my calendar, the better, as summer months and Christmas and Valentine's dates fill up quickly. If you're planning to create a beautiful Boudoir Album to give as a gift for a  special event like an anniversary or birthday, we'll aim to schedule your shoot for about two months prior to that date. That gives us plenty of time to plan all the details of your session, and leaves me enough time for the editing/retouching process, album creation, and shipping time. It also gives us a few weeks buffer in case we need to reschedule or something needs to be reordered. There are a few specialist products I offer which can take up to 8-10 weeks to create, so please enquire for details.
I can also accomodate a limited number of last minute Plus Size Boudoir Sessions. If your event or gift is needed imminently, call me (Stormy) ASAP at 07799 390468. If I can squeeze you in somewhere, I'll do it! I offer rush retouching services, and have turned around an album in four days before, so it's possible!
 What should I do to prepare for my Plus Size Boudoir Photography Session?
There are a few maintenance type things that you'll want to think about in preparation for your Plus Size Boudoir Session. This isn't a must-do list, it's just some suggestions for things you may want to consider having done.
Get your roots done! This one is not optional, you'll hate your images if you don't.
Mani/Pedi. Don't forget to choose a colour that works for all your wardrobe options.
Waxing. Have this done about a week prior to your session if possible.
Eyebrows. Make sure you're happy with them.
Hydrate! Drink plenty of water in the days leading up to your photo shoot. It makes a world of difference to the appearance of your skin and eyes, and it's good for you anyway.
Lip Balm. Apply liberally for several days before your shoot to avoid chapped lips.
See the wardrobe notes below for advice on what to wear. In general, bring more than you think you'll need.
Watch what you eat in the day or two before your session. Avoid anything that you know makes you feel bloated or gives you headaches. On the day of your shoot, you MUST eat, but you should eat several small healthy meals rather than a giant plate of greasy chips. I think this is actually far more psychological than physical, but either way it's hard to feel sexy if you've carb loaded on crap, right?
A note about wanting to lose 5/10/15 Pounds before your session….You are beautiful and absolutely fine exactly as you are! You do not need to lose anything, you will look fabulous in the images we create together whether you lose a few pounds or not.
However, if you're absolutely set on losing a little first, then my recommendation is to book your shoot for a few weeks or months from now. Don't put it off, book it now. We'll pick a date and plan your shoot, and that's it – no going back on it! You'll be getting in front of the camera whether you lose the weight or not, so it's a great motivator and a great way to celebrate when you do. Lots of my clients do this, and apparently it works really well!
What should I wear for my Plus Size Boudoir Photography Session?
What you wear can make or break any Plus Size Boudoir Session, so be sure to leave yourself time to prepare the outfits you'd like to wear. I recommend several different looks, as many as 4-6 if you can manage. Most clients bring far more than they will need, and then as a team the Bride, my Makeup Artist, and myself discuss and choose the looks that will work best for the shoot.
We'll discuss wardrobe thoroughly on the phone, but in general it's nice to have plenty of variety so you album is dynamic and a reflection of several sides of your personality. I love ALL women in an all black look, a nice corset, and the highest heels you can beg, borrow, or steal. If you're planning a surprise or gift for your boyfriend/husband/partner/lover, you may also want to bring along something from his wardrobe (white shirts and ties are popular options), or any other items that are personal to the two of you. The single most important thing for Plus Size Boudoir Photography Sessions is that your lingerie fits you well. If it's been a while, treat yourself to a girly shopping trip and get yourself measured at one of the nice lingerie boutiques around the city.
If you need a little lingerie inspiration, I've put together a Pinterest Board with some ideas I love. I'm addicted, so it's getting bigger every day!  Check out my Plus Size Boudoir Inspiration Board here. There are lots of other boards too, so please feel free to check them all out!
 What about posing? I'm worried I won't look good in my images…
It's absolutely normal to feel this way. The thought of getting in front of a camera can be scary. Doing it while half naked can be downright terrifying. I understand this, and so does the rest of my team. It's my promise to you that we're going to do everything humanly possible to ensure you're prepared, comfortable, and understand the process of what will happen during your time with us. Even if it seems impossible now, odds are we'll have you walking on cloud nine by the time we're done with you!
One of the biggest sources of fear in a photo shoot is posing. If you've had a photo shoot before, your internal dialogue might have sounded like this:  "What am I supposed to be doing with my hands? Where do I look? I don't know what to do! Ugggh, do my arms look fat like this? I hope they don't look fat like this. Oh my god, I don't know what I'm doing here!"
Your shoot at Rebel & Romance Boudoir will NOT be like that. I'll guide and pose you every step of the way, including hands and eyes. I've worked with lots and lots of bootylicious babes, and I know what to do with your curves! I'll coach you into the positions that are going to flatter you the most, and then I'll coach and coach some more. I'll coach so much that you'll be sick of hearing me by the time we finish up. Posing is a great workout too, so you can enjoy that glass of bubbly guilt free or skip the gym tomorrow:)
Can I see some examples of your Plus Size Boudoir Photography Sessions?
Absolutely! I've worked with lots of curvy women, and I'd be happy to share some of my favourite galleries with you. Because many of my clients choose to keep their images private, there are a limited number of galleries available on the website. Please feel free to drop me a line and we can meet up over a drink or coffe and I'll show you a greater selection of women.
I'm working on getting a comprehensive gallery of Plus Size Boudoir Sessions together, which will be made up of my beautiful clients (images shown with permission, of course) and plus size models. If you're interested in applying to be one of my plus size or curvy models, please get in touch! No experience needed, and there are some tasty little discounts to be had!
 In the meantime, please feel free to follow the Rebel & Romance Boudoir Photography Blog to see my most recent sessions or check out my other galleries. You can also see more images on the Rebel & Romance Facebook Page.
To schedule your very own Plus Size Boudoir Photography Session, or to talk through all the details, just give me a ring (Stormy, 07799390468)!