London Boudoir Photography: Montana's Boudoir Photo Shoot
This week on the blog: Montana.
Some of you might know that I grew up in Idaho and lived in the state of Montana for a few years when I was a kid, so I sort of though Miss Montana and I would have loads to talk about. You know, harrowing stories about getting snowed in and camping in the summer and lying under the stars and stuff. Alas, Miss Montana has never been to Montana, and doesn't really seem like the camping type. Oh well, she sure photographs pretty:)
Montana is a plus size model, currently signed with Hughes Model Management. We scheduled her first London Boudoir Photography session a for a few weeks ago, and she came prepared with a fabulous fur coat and the some gorgeous spiky Louboutins.
I love layering lingerie with outerwear. It's unexpected, and adds so much interest to the outfit and resulting images. This vintage mink fur coat is a great example of how to pull off a look like this with style. This is also a great way to de-emphasise areas that might be a bit heavier than you'd like, as a loosely draped coat skims over lots of trouble areas and completely hides arms.
Montana has such a unique face shape, and that sort of big beautiful hair normally reserved for barbies and beach bums.
A crown of flowerss. Love this. If you're feeling crafty, you could DIY this with a glue gun, headband, and some fake blooms. If not, this one is from H&M and was just a few Pounds!
This is probably my favourite image from our entire London Boudoir Photography shoot together. You know me though, I'm a sucker for a fierce stare down and beautiful backlight.
Just a few more…
I've been playing with a dark and grainy, Holga-inspired black and white look lately, as shown in this image on the left. It's so fun, and really addictive. I still love a clean cut black and white though, like this image on the right.
A beautiful example of how to do a simple white shirt. This one is sheer and buttons up at the front. Again, it's a great way to do a simple, sensual London Boudoir Photography look without actually showing that much skin.
One last image in the window. With the flowers. And the shoes. And the Holga effect.
This is a softer, bridal-y sort of finish, with a gorgeous fabric that lives in my shoot bag. The ottoman was weird, fluorescent shade of fuchsia that really wasn't complimenting Montana's skin tone, so we just covered the thing up!
Beautiful, clean black and white images, and legs for days.
Don't you think Miss M looks a bit like Alicia Silverstone in this image? Rollin' with the homies…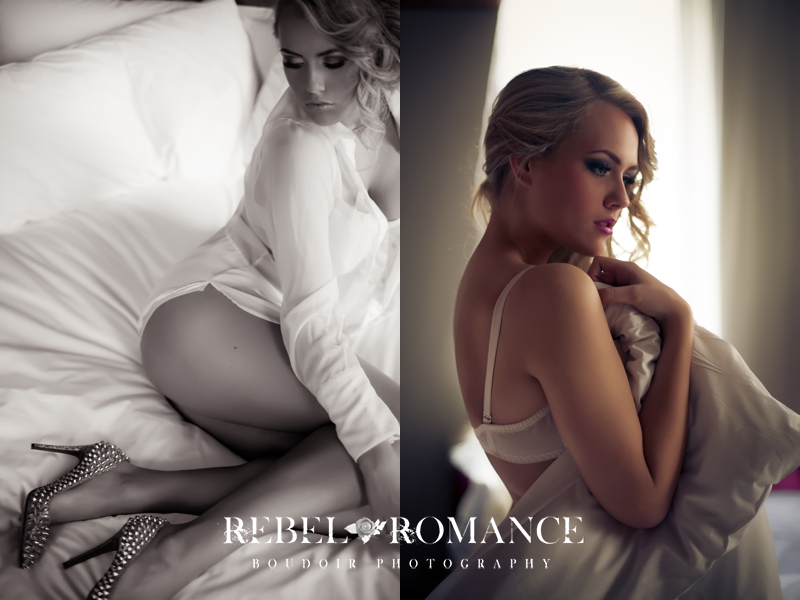 And that's it! I'll post a few extras on Facebook, so be sure to join us there.
xx
Stormy
Ready to start planning your very own London Boudoir Photography Session or Plus Size Boudoir Photography Shoot with me?
I'd love to chat with you about all the details of how a London Boudoir Photography session with me works, including what to expect, how to prepare, and what sort of fabulousness we can create for you. Please feel free to get in touch, you can reach me (Stormy) at 07799 390468, or just drop me an email here. Plus size London Boudoir Photography clients and curvy girls are more than welcome:)