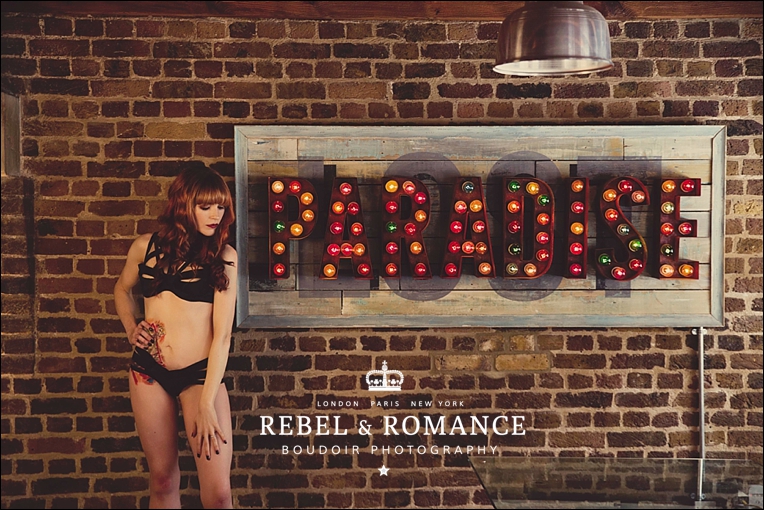 R is an inspiration. I L. O. V. E. her warm, welcoming ways, her edgy style, and her Florence and the Machine-esque good looks. We had such a fun boudoir session together, and our location was this amazing flat in Little Italy – complete with cool warehouse style features and decorated to perfection.
Without overstepping my bounds, I would like to add a little commentary. It's so easy to look at images of a gorgeous, thin woman and think, "yes, easy for YOU to do!" Please don't think this – you'd be dead wrong most of the time. Most of my clients are regular women with hangups similar to your own. We're all on a hard journey of self-acceptance, but sometimes the evidence of that struggle isn't so obvious.
It's not my place to share the details of her story, but I will say that what R has overcome in order to even contemplate a boudoir shoot is incredible and inspiring. It's taken many years of constant, daily battling, even if she's made it look easy as pie in these images. I'm SO proud of her for doing this, and I hope you will be too:)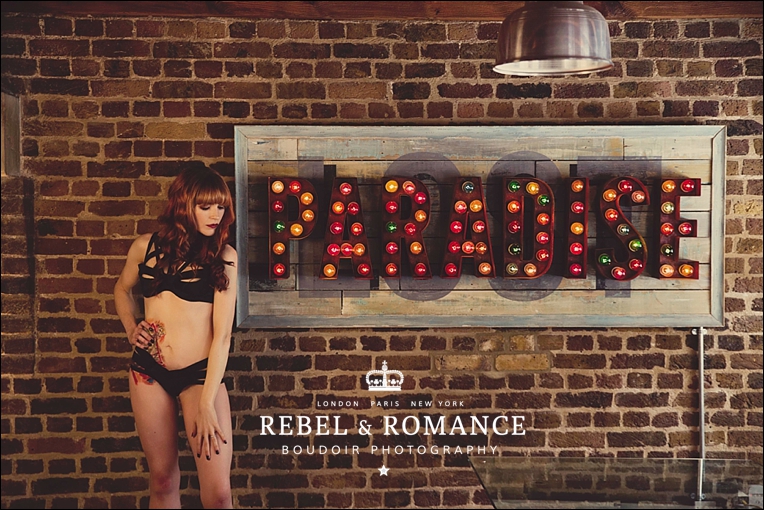 Here she is! Looking AMAZING.
This Paradise Lost artwork is my new favourite thing. If you're not familiar with him, you should seriously check out Chris Bracey's brilliant neon work – I don't know how I've missed realising all of this came from the same man, but I would now like to buy about seven pieces. Also, apparently there is a magical place in London called God's Own Junkyard that I would love to check out – if anyone wants to come along give me a shout?
Chris Bracey – Paradise Lost, 2013, Acrylic paint on reclaimed wood, aluminum and carnival light bulbs
Also, can we just take a minute to acknowledge how cool R's back tattoo is?
So much going right here.
I know I'm posting too many of these, but I just can't decide which one is my favourite.
I like them all.
A good moody shot in low light. How great does R look here?!
I'm pretty certain this is Agent Provocateur lingerie – the black strappy look is always very cool on camera.
Louboutins for the win. Always.
Look! I used a light!
This was just a crazy idea we tried. It almost worked, but I think the pane of frosted glass was just too small, even with R doing a great job of squeezing herself into it. It's something I might try to develop as a set option in the studio, it's got potential…
Red hot.
I've been waiting ages to shoot this dress. It's the Angela Structured Dress by Bordelle and is stunning. If you're looking for an investment piece you can get your own at Coco de Mer. I've seen it in a white/ivory colour that would be perfect for a unique bridal look.
Rock and roll. Animal print heels. Striking red hair. Creative use of available light (lamp). Agent Provocateur lingerie. It's everything I love wrapped up in one image.
This smoky eye matches the atmosphere perfectly, another feather in Gemma's cap.
We turned day into night for this shot. In retrospect, I could have used one more light or we should have maybe lost the stockings, but I still like it.
Gahhh that face!
Just a final few frames in a tuxedo jacket, which is another no-fail look for your boudoir shoot.
I'll finish with this doozy – my favourite image from this boudoir session by a landslide. R – you were everything. Thanks for a fantastic shoot and being so very very brave. I hope you feel incredible because you certainly look it.
xx
Stormy