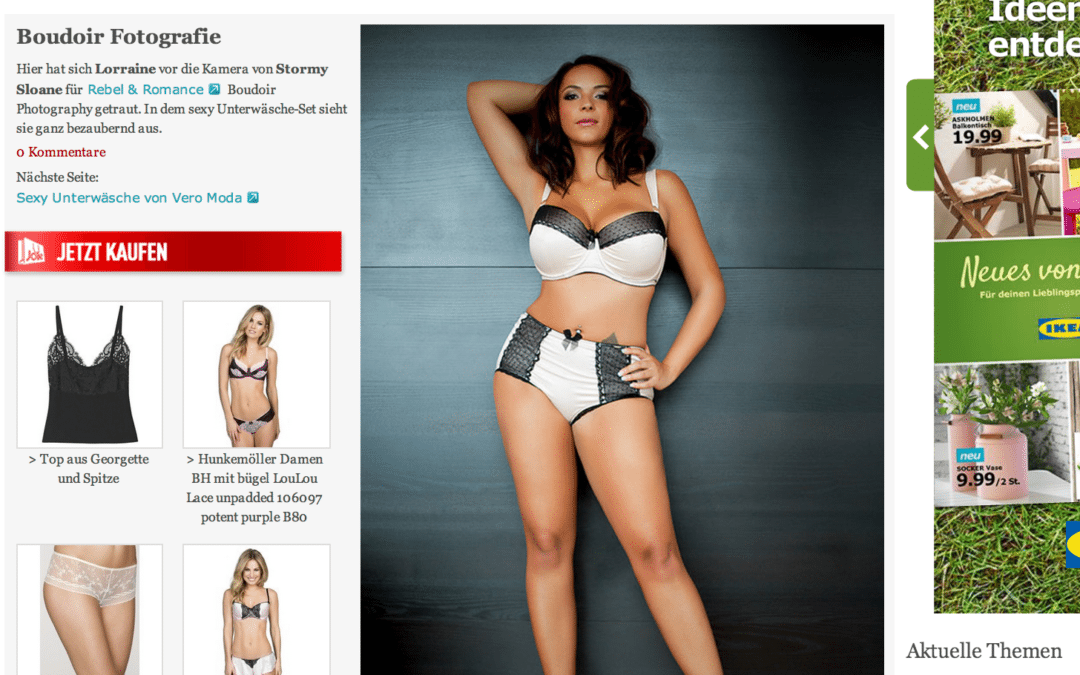 More media love for plus size / curvy Rebel & Romance bombshells today:)
Jolie, a German based website, contacted me a few weeks ago to ask if they could use a few images in a lingerie article they were working on. I of course said yes, and I'm pleased to see they've selected a few of Lorraine and Jada's images to illustrate the feature.
I did attempt to use Google translate on the little text blurb beside each photograph, but what came out left something to be desired. It all seemed positive though, just a bit mangled – like the instructions that come with electronics assembled in China.
Screen shots below, or feel free to check out the original feature using these links:
http://www.jolie.de/bildergalerien/Boudoir-Fotos-2499674.html
http://www.jolie.de/bildergalerien/boudoir-fotografie-2499671.html
Lorraine is wearing a great bra and brief set here, with matching lace panels. The panels act to distract the flow of your eye (similar to the colour blocking trend), so they can be very flattering  on curvy bodies.
Look, I know it goes against everything you know about lingerie, but shapewear really can be sexy when it's worn for a boudoir photo shoot. Jada is rocking a nude bodysuit here – it's one of those sucky-in ones designed to hold everything in place. I asked her to bring it for her shoot, and I know that she thought I'd lost my mind, but I just kept saying, "Trust me, trust me!" And see? It looks really glam, but is also understated and shows off her body rather than what she's wearing. Something like this is also a great option for women who would struggle to find a lacy, lingerie style bodysuit in an appropriate size, because these come in quite a lot of larger cup sizes.
Overall, two great wardrobe ideas, especially if you've got a curvy body type.
xx
Stormy