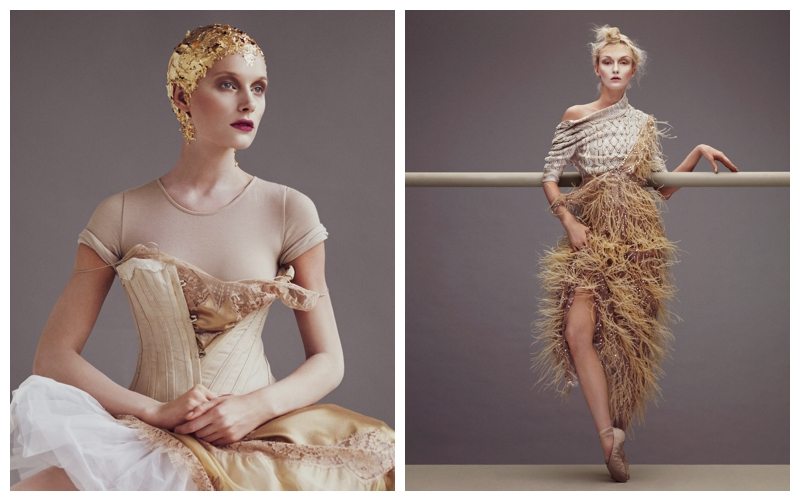 Boudoir Photo Shoot Inspiration: Spring Ballet
I'm over winter already. This could prove to be problematic since I've been told that winter is, in fact, still on it's way. Are these people serious? If so, we really need to get someone on that. Winter ought to begin at the end of November, give us lots pretty snow on Christmas, and then finish it's business by the new year. While we're fixing things, let's throw in some more sun too.
Anyway…I tell you that to tell you this: I stumbled across a beautiful editorial today. I'm researching ideas for a new project I'm about to start work on, and this little gem popped up on my screen. Titled "Called to the Barre," there's something intrinsically hopeful about a spring colour palette, and this one has a certain lightness that reminds you spring will come, eventually, even if winter (apparently) hasn't even started yet.
A brief that references ballerinas and lots of tulle could so easily become trite and naive, but it's been brilliantly interpreted here. Published in the December 2013 issue of "How To Spend It," this set of images was styled by Damian Foxe and photographed by Andrew Yee. Hairstyles created by Shlomi Mor and makeup by Robert Greene bring out the very best in the models cast; Alexa Yudina, Ana Buljevic, Anastasia Ivanova, Anne-Sofie List, Ilva Hetmann, Maria Borges, Regina Krilow, Stephanie Hall, Vasilisa Pavolva, and Veranika Antsipava.
I've included all the wardrobe information for each look, because I always think it's interesting to see which elements have been pulled from designers and which are just everyday items. Each time I read that an item is the "stylist's own" or "vintage" I am reminded of the time when my most fashionable childhood friend patiently explained to a thirteen year old me that, "Magazines only put that if it's actually really cheap or they don't know where it came from. It looks better."
She was the first one of us to wear pointy toed shoes and know how to correctly pronounce Yves Saint Laurent, so I've never doubted her on this.
I think it's the layering of textures that really makes these images sing. That corset is amazing too. I love how it's not even done up but still manages to look great. I might steal that idea actually.
Left: Wolford cotton-mix body, £99. Louis Vuitton hammered-silk and lace dress, £2, 410. Bloch nylon tulle and spandex tutu, £44.95. Vintage corset, stylist's own. Right: Jenny Packham beaded stretch crepe blouse, £1, 680. Oscar de la Renta silk organza gown with feather and crystal embroidery, £7,175. Repetto cotton ballet shoes, £19.
This image on the left is a perfect example of how you can create a sexy, evocative feel without revealing too much. One key lingerie piece (the pink bustier) gets the point across regardless of how much else you choose to show or not show.
Left: Humanoid wool jumper, £159, from Couverture. Nina Ricci silk radzimir and organza bustier, £2,913. Vivienne Westwood wool-mix leggings, £415. Repetto cotton canvas and leather ballet shoes, £24. Right: Emilio Pucci wool and silk dress, £1,389. Repetto Supplex dancer's leggings, £39.
Killer gams? Let's show them off with a flowy dress and a wind machine. The fancy plie is optional. Also, I've been on a lot of photo shoots. I can pretty much bet that "stylist's own" headband on the right is a bit of extra material they found somewhere on set or at the bottom of a fabric bag. Don't get me wrong, I think it's perfect. That's just how the creative process works sometimes – you have to leave room for inspiration and spontaneity or everything gets boring.
Left: Wolford ribbed  cotton and nylon tights (worn over arms), £30. Nina Ricci silk dress, £2,240. Repetto cotton canvas and leather ballet shoes, £19. Right: Ralph & Russo Haute Couture French Chantilly lace gown with rose gold embellishment, price on request. Repetto tulle tutu, £90, and cotton canvas and leather ballet shoes (just seen), £24. Headband, stylist's own.
Not a single expensive shoe in this editorial. That must be a first.
Left: Saint Laurent by Hedi Slimane silk tulle dress, £1,440. American Apparel cotton spandex bodysuit, £23. Bloch leather ballet shoes, £11.95. Hair bands, stylist's own. Right: Lanvin shorn-velvet dress, £2,245. Wolford nylon-mix body, £125. Bloch leather ballet shoes, £11.95.
I love everything about this image. So pretty and soft, but still mysterious and effortlessly cool. I'd highly recommend this model's manicure if you're dreaming of a boudoir shoot with a similar feel – it's neutral and pretty, but goes with everything.
Also, this Lanvin tulle is killing me. I really need to learn to sew – surely it can't be that hard to create a piece like this for shoots, right? The edges aren't even finished. If any of you have mad sewing skills and fancy a project, please let me know:) Pictures of your fantastic creation on the house!
Vivienne Westwood Couture silk bolero, price on request. Lanvin tulle dress with grosgrain ribbon, £3,885. Bloch leather ballet shoes, £11.95. Skull cap, stylist's own.
xx
Stormy
P.S. There are lots of exciting things happening with Rebel & Romance Boudoir Photography in 2014. I don't want to jinx anything, but stay tuned. If you want a sneak peek, follow my on Instagram. I'm @stormy_rebelandromance