On the blog today:
Jada. Round 2.
Some of you might remember the first time Jada and I got together. We met in a Victorian mansion in London, and had a great boudoir session where everything was soft, pretty and glamorous (see a recap here).
Jada and I were hoping to do another shoot together in NYC, but of course she was due to leave the city two days before I was meant to arrive, so it didn't look like it was going to happen. We whined and complained, but finally just gave up and promised to set something up when we both got back to London instead. Then (as always seems to happen with great shoots) things magically fell into place at the last minute. Jada was unexpectedly booked for a job that kept her in the city for a little longer, I ended up with half a day free, and the rest is pretty self-explanatory.
I really love working with clients and models a 2nd time. The 2nd shoot seems to be more fun for everyone, since we already know each other and can be more relaxed about the whole process. There's obviously less nervousness and panic to battle through, and more willingness to just give something a go. I find it tends to be a little easier technically too, since I usually remember what worked best for a person the first time and can build on that. Plus, you get to try something totally different – new clothes, new location, new attitude, whatever. It's nice to showcase a different side of someone.
This location was the perfect round 2 setting for Jada and I, since it couldn't have been more different from our first shoot if it tried. We were aiming at a set of images that captured a NYC feel – gritty and urban, with a touch of girl next door. I think we got there, or close enough anyway:)
I love a good slouchy sweater for boudoir shoots. It's casual but still looks great. Something like this is an ideal option if you feel a little conscious of what you're going to be doing with your hands or aren't so keen on your midsection.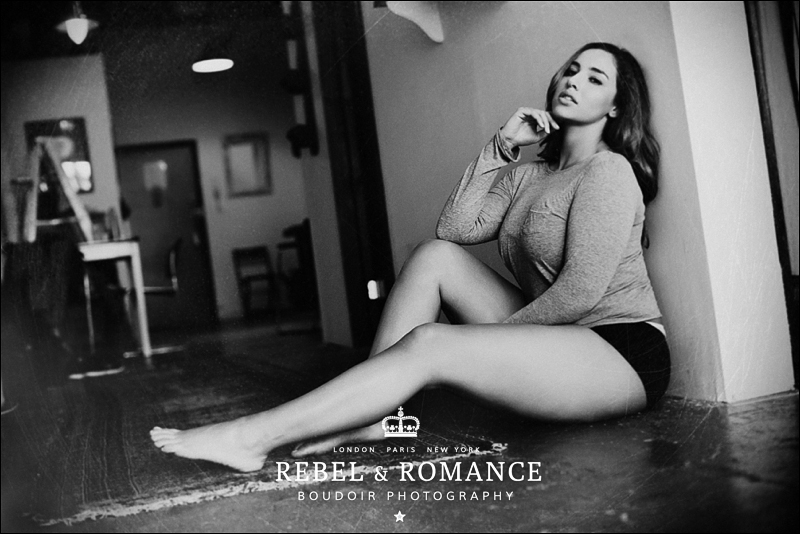 If Jada was a verb, that verb would be smoulder.
Similarly, a t shirt works just like a slouchy sweater, but it's a little lighter and even more casual. It's an ideal choice if you're not into dressing up and heels, or if you want that "Sunday morning" feel.
It's always funny to me how we can take things from happy /fun/commercial to downright seductive with just a few quick changes.
On to our first proper lingerie set, which Jada rocked, as always.
It's such a pleasure working with strong women like Jada. I think they could teach the world a lot about what it means to accept yourself, and about how to develop a sense of self worth that isn't tied to what other people think about your body.
I've decided after finishing these images that we need to go tropical. Maybe destination sessions in Thailand? How amazing would that be?!
I didn't bring a lighting kit with me to NYC, and by this point we were quickly losing sunlight. We decided on a wardrobe change and then a daring jaunt up to the roof.
Mandatory warehouse window shot.
On the roof at sunset. It doesn't get cooler than this.
So much city, so little time.
A slightly moodier version…
And one last shot as the sun went down.
A few more on our way down. These are super gritty and dirty, but I still think they turned out pretty cool without looking too hootchy.
Finally, a few final images we took in the elevator on the way down. I was about 90% sure these weren't going to work, but the first shot totally surprised me and then I took about 50 in 10 seconds. No external lighting used, just the one dingy lightbulb inside the lift, high ISO, and me insisting Jada kept her face angled upwards.
We wrapped up, went back downstairs, took 45 minutes to order a pizza (neither of our phones were working in USA and neither of us had USA debit cards, so it was a mission), and then spent the rest of the evening eating too much pizza, chatting about confidence and body image, and about the intricacies of "making it" in the fashion/creative world.
Keep an eye out for this one ( follow her on Instagram @jadasezer ), she's got her head on straight and is all about empowering women and representing for curvy girls. I think she's destined for big things.
Jada, you were brilliant as always. It's such a pleasure working with you. Until next time (preferably on an island, yes?!)…
xx
Stormy