Today on the blog: L-l-l-lauren!
 Lauren got in touch shortly after I announced my NYC trip. She's back and forth between America and the UK these days, so it just made sense for us to plan her shoot in the Big Apple. After a few Skype calls and some mood boarding, we came up with a styling direction: retro/vintage with a little NYC edge. I had a feeling it was going to suit her, but she took to it like a fish to water. The hair, the makeup, everything just worked.
Lovely Lauren is dream to work with too. She's kind and elegant, but also brave and was up for anything in the name of an incredible image, including climbing to the roof in lingerie.
 This chair reminded me of "That 70's Show," and worked perfectly for a retro vibe.
Lauren is wearing a vintage French blouse which has been passed down from the women in her family for generations (what a way to commemorate them). Also, how divine in her hair in this image on the left? Katherine, our hairstylist, did an amazing job.
A ruby red lingerie set always adds a pop of colour. Here we've paired it with a simple black cardigan, which is a great way to make things feel more casual. If you're not so keen on your midsection, this is also a great way to strategically hide bits without being obvious about it.
Legs for days + great ink = winner.
There's a soft spot in my heart for fiery redheads and for women who own their curves.
A perfect vintage cat eye, courtesy of the ever talented Gemma. No surprise the Lauren is frequently compared to Kate Winslet with this gorgeous face.
 I remember exactly when I clicked the shutter for this image, because about two seconds later I told Lauren I though she ought to be painted on the side of a plane.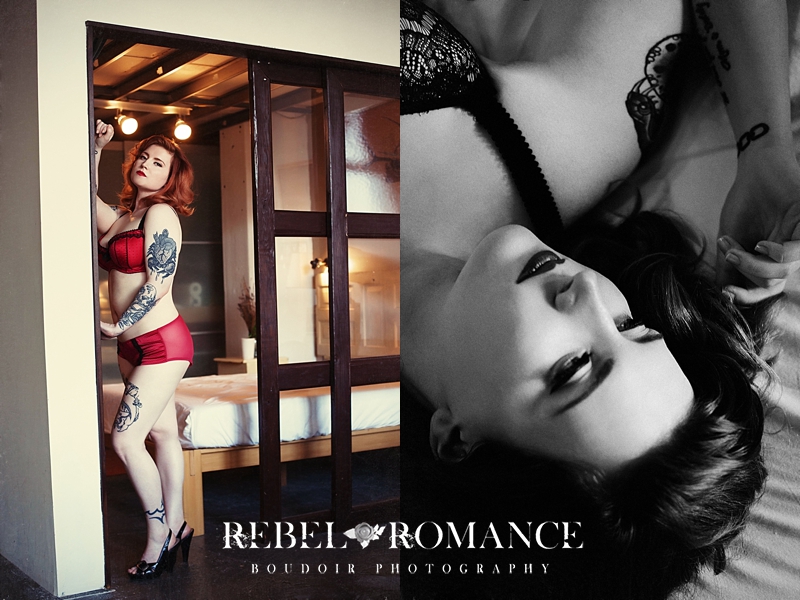 Lauren, Rita Hayworth called. She says you'd better back off her look.
It's lonely at the top, but not for L.
In fact, it's so glamorous that it calls for some fake smoking and an over the shoulder glance that makes her too cool for absolutely everyone.
 I haven't photographed anyone in front of graffiti for years, but when in Rome…
A few moody black and whites to finish.
 Lauren, you did SO GOOD. It was so exciting to photograph you, and I'm already looking forward to whatever we come up with next time. Thank you thank you thank you.
xx
Stormy