Plus Size Boudoir Photography: Jada's Boudoir Photo Shoot
My dream shoot, at a beautiful beyond belief Victorian mansion the first week of this month, was ahhhhmazing. You all ought to know that by now though, because I've been blabbering on about if for long enough. However, I packed the day way too full, which means that I've spent the last two weeks absolutely glued to my Mac. There were so images to wade through and picking favourites was a horrible, miserable, heart-wrenching process. My hand to turned into a Photoshop claw relatively quickly too, which is just about as sexy as it sounds.
I'd like to start with a quick disclaimer. Please know that my use of the term "plus size" throughout this post is simply a result of my desire to get this work in front of the people it might speak to. I don't think "plus size" is a great thing to call curvy women, but it just happens to be what most curvy women type into google when looking for a boudoir photographer. Please don't be offended if you hate the term – I'm not keen on it either!
All that aside, it's time. You've waited long enough. Allow me to introduce my first victim….the lovely Miss J!
Miss Jada is represented by Hughes Models, and as far as I can tell she's about to take over the entire plus size modeling world, one dangerous curve at a time. I loved working with Jada, first because she's just so gorgeous, and second because it's great to show you, my darling potential clients, a body shape that might be a little more relatable to your own. Beauty is beauty, nobody around here is afraid of a few curves, so I hope you won't be either:)
In preparing for her Plus Size Boudoir Photography Session, I had suggested to Jada that she bring some shape wear as one of her outfits. I'm pretty sure she had zero faith in that idea, but she gave it a go anyway. As you can see, it really, really works. Shape wear is my new BFF – I don't really understand either, but no matter how granny it looks on the hanger, it always seems to look amazing on camera!
Jada's outfit is so simple  – nude shapewear, nude platform heels, and a little bit of bling. It's a monochromatic palette that never fails when paired with a soft, feminine location. Who doesn't love a little bit of distressed glamour anyway?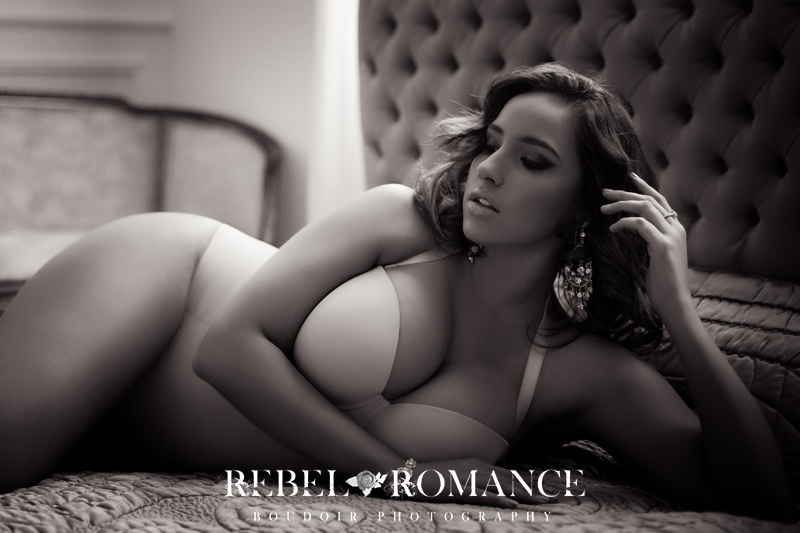 Perfection.
Perfection, pulled back and in colour.
Loved this mirror! I shot it all day long, but this turned out to be my favourite image using it.
Look number two for Jada's Plus Size Boudoir Photography session was a basic black lingerie set and strappy black heels. Props to Lauren and Anita for a fantastic job on hair and makeup.
Lovely lovely.
So then I found this sofa and fell madly in love. It's obviously fallen straight from photographer heaven.
Oh Miss J, this pose kills me.
Also, these antique doors were amazing. This series was so fun to shoot, and I think it's a great example of how a plus size boudoir photography session is hardly any different than a regular one – curvy girls move better if you ask me!
Moving like a boss. NBD.
We thought we'd give the neighbors a treat as well. As you do.
There's something so authentic and beautiful about shooting outside. I never get tired of it, even though it tends to throw up all sorts of practicality obstacles like cold, and rain, and bugs, and a lot of security guards asking a lot of questions:) We took full advantage of having a privately owned outdoor space for a change.
Had to get at least one giant smile in.
Jada, you're so gorg!
Miss J, it was lovely lovely lovely working with you. Thanks for a great shoot!
xx
Stormy
Ready to start planning your very own London Boudoir Photography Session or Plus Size Boudoir Photography Shoot with me?
I'd love to chat with you about all the details of how a London Boudoir Photography session with me works, including what to expect, how to prepare, and what sort of fabulousness we can create for you. I do this job because I love it, and we always have a great time. Please feel free to get in touch, you can reach me (Stormy) at 07799 390468, or just drop me an email here. Plus size boudoir photography clients and curvy girls are more than welcome:)