Couples Boudoir Photography: Ian and Chiyo's London Boudoir Photo Shoot
Couples Boudoir is not my specialty, but I've been getting so many questions about it lately that it seemed high time I actually show you all what one looks like! In a spell of perfect timing, Chiyo and Ian got in touch a few weeks ago to ask about having me photograph them together. I said yes, and the best part is, I even get to share the results with you here!
Ian is Irish and lives in Ireland. Beautiful Chiyo is French and Japanese, and lives in Germany. To kick off their shiny new long distance love affair (awww!) we all met up in London for some saucy Couples Boudoir Photography.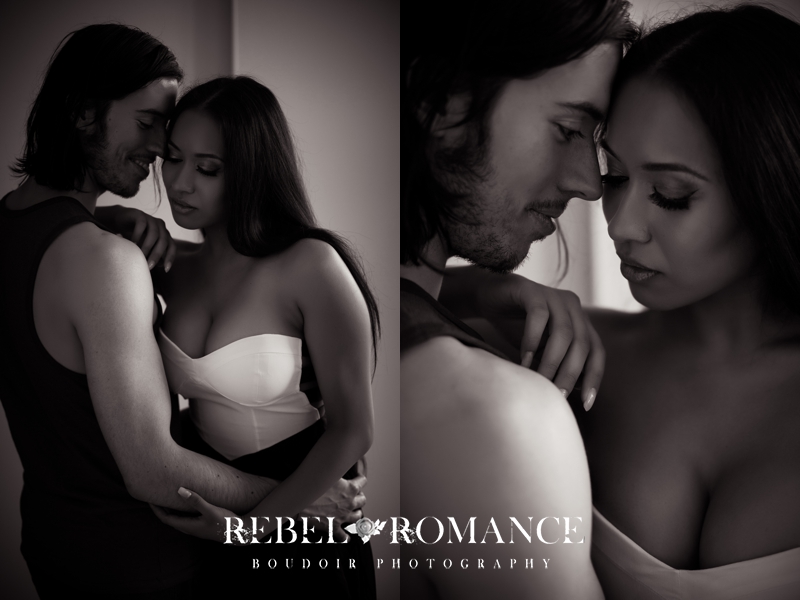 I'm not going to lie, sometimes the idea of a Couples Boudoir Photography Session makes me nervous. It just seems like it could be so awkward and uncomfortable for everyone involved. However, what I've learned is that it really doesn't need to be. As long as one partner isn't dragging the other one along and everyone stays relatively professional, it's actually a lot of fun! Plenty of communication before the shoot meant we all knew what the goals of the day were, and what sort of images we were aiming to create together.
In other words, I emailed Ian a few days before and insisted, "NO funny business Mister!"
Just kidding. But seriously, no funny business.
Look at those eyes! Gorgeous! I think it I had to pick out of the genetic lottery, France and Japan are not two pretty lucky draws.
This is my favourite image of the day. Mushy happy lovey faces? Yes please!
A location change to mix things up. I love how these turned out. You can't even tell how freezing cold it was.
I suppose that's another benefit to bringing a boy along – you get someone to cuddle up to! As these two are from afar, I made sure we got a great image with the London skyline in the background to commemorate their time together while in the city. Nothing beats a little wind in the hair either.
Some people are hesitant about booking a Couples Boudoir Session, but it doesn't have to be any more revealing than you are both comfortable with, especially if it's been a while since you've been photographed professionally. You really don't have to be half naked to have a personal, intimate Couples Boudoir Photography Session.
How great are these shoes?! There's no way I could ever walk in them, but props Chiyo. Props for still having two functional ankles, I am impressed.
One last outfit change for Chiyo…
If you're not feeling daring enough to be photographed in lingerie, a Couples Boudoir Session can be a great way to get some use out of a that one dress we've all got in the back of our closet…you know, the one can't believe you ever bought because it's way too short/tight/low cut for public? Get it out, we'll justify the money you spent on it.
Ahhh…love this one too! These two are too cute!
Towards the end of the shoot, we got about 30 seconds of sun. It was just enough for a beautiful little sun flare shot.
Just a few last intimate images to celebrate new love. Hot hot hot.
Chiyo and Ian, you were both fantastic to work with! I hope you had a fantastic time in London together, hope to see you both again soon!
 Interested in booking your own Couples Boudoir Photography Session?
Odds are, I'd love to work with you. Don't be shy! If you've been thinking about booking a saucy session for you and your significant other, please feel free to get in touch for all the details about how a Couples Boudoir Photography Session at Rebel & Romance Boudoir Photography works!